---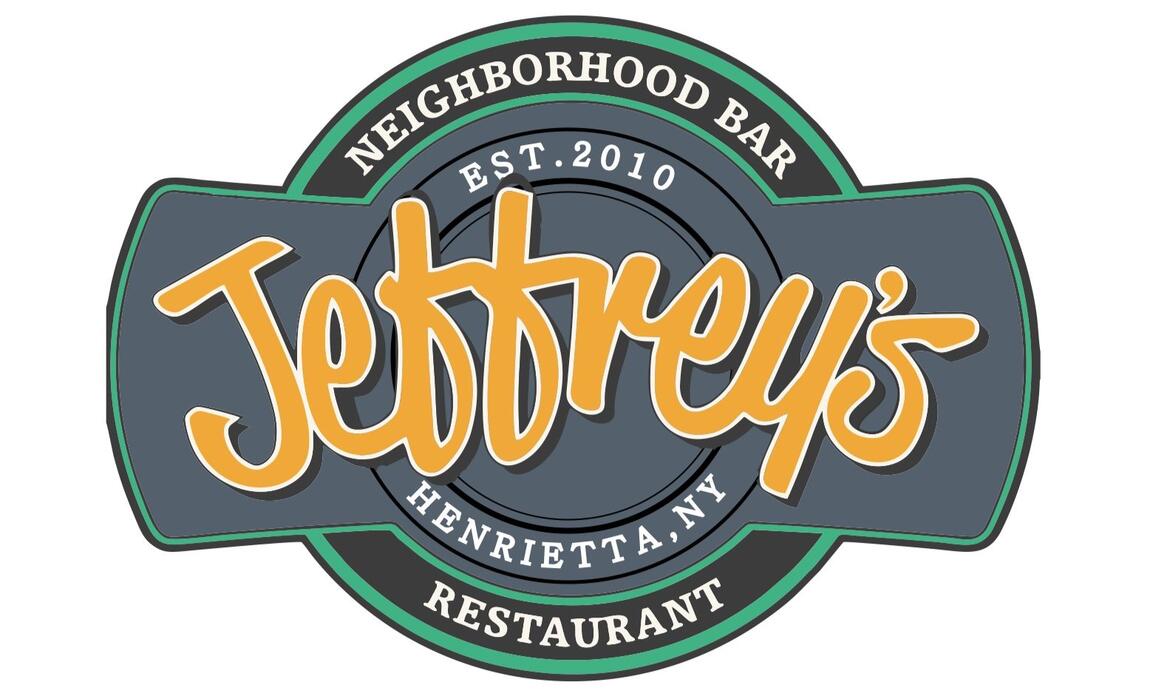 HENRIETTA'S FAVORITE NEIGHBORHOOD BAR
3115 E. Henrietta Rd Henrietta NY 14467
585.486.4937
---
All Menu Items Made to Order and Available for Take-Out
Our Menu
Kitchen Hours
Tuesday 5-8pm
Wed thru-Sat 11:30am- 10pm
Sunday: Bar Menu Noon-8pm
---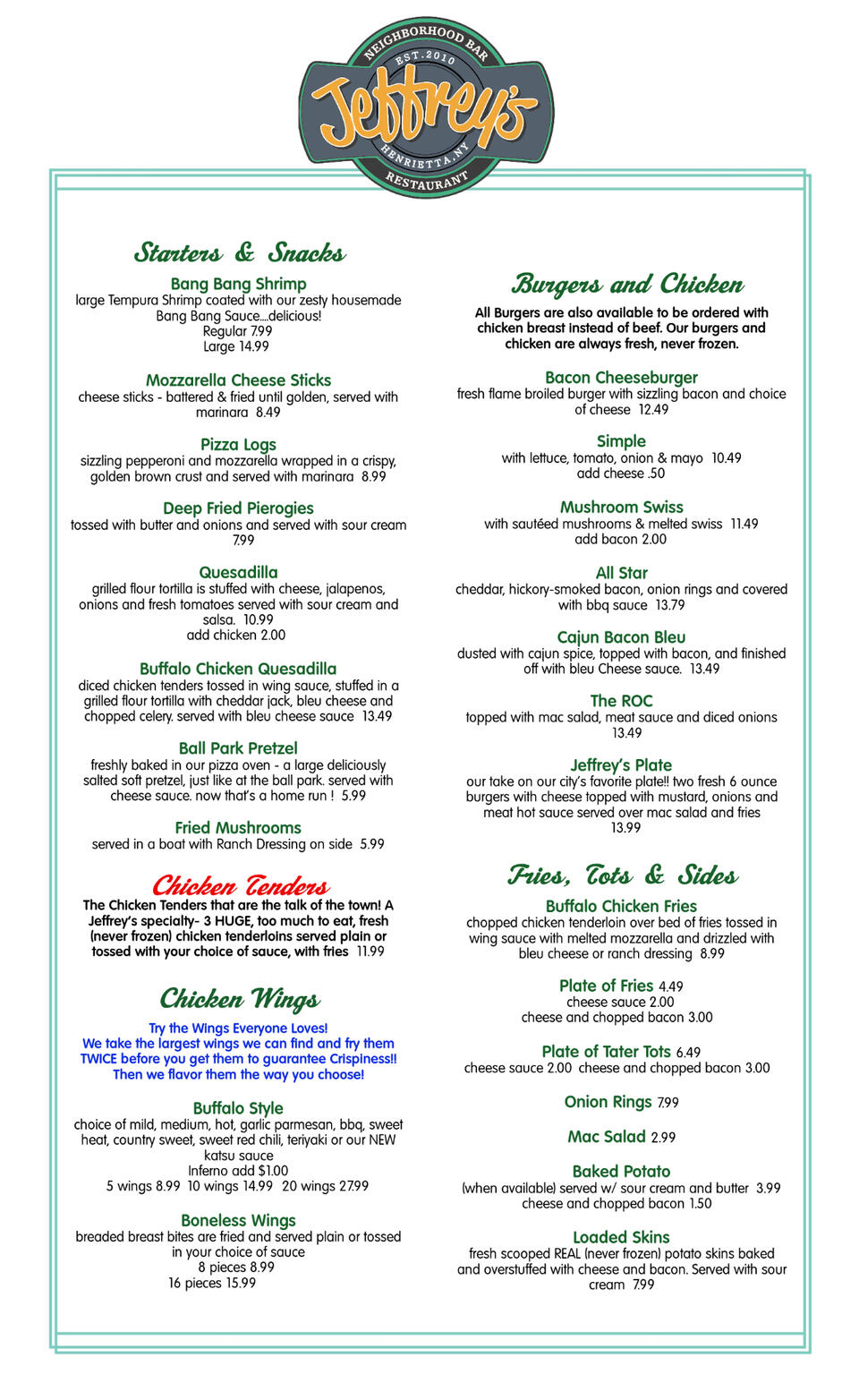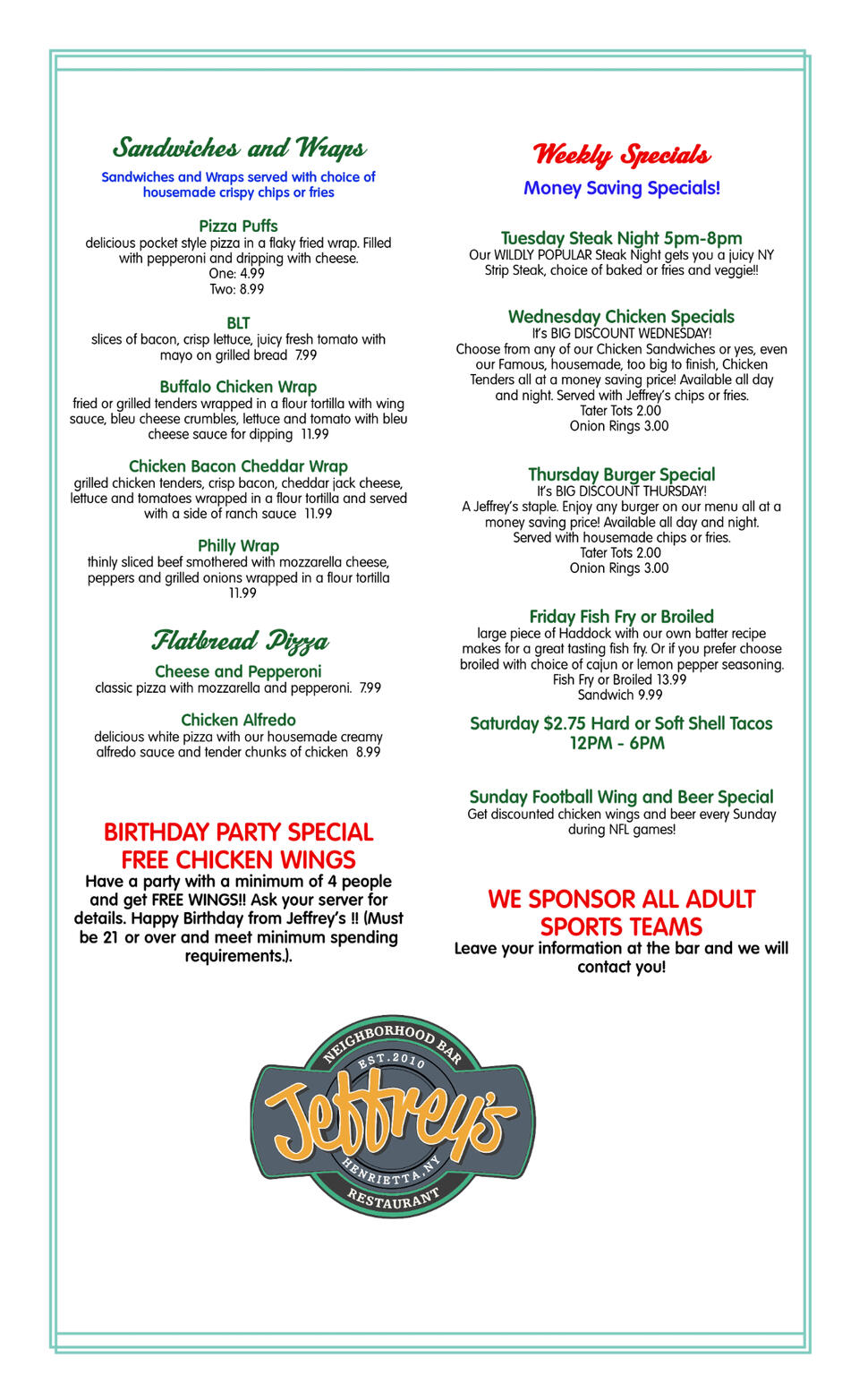 DOES YOUR SPORTS TEAM NEED A SPONSOR?
We SPONSOR all types of Adult Sports Teams. Softball, Kickball, Darts, Golden Tee...you name it and we sponsor it. Stop in for Details.
---
JOIN US ON YOUR BIRTHDAY
free chicken wings
Celebrate your birthday with us with our Birthday Party Wing Special !! Bring friends and family and with proof on the day of your Birthday get 1 FREE wing for each year!! For example if you turn 43 this year, you get 43 FREE CHICKEN WINGS! Yes I said FREE...just a couple easy rules...Since it's a Party Special, must spend a Minimum of $30 on beverages and/or other food items, No doggie bags or To-Go, Cannot share with other customers at bar. Valid ONLY on the day of your birthday unless your birthday falls on a day our kitchen is closed. If so, no problem..we will provide your free birthday wings on the WEDNESDAY after your Birthday. Have a HAPPY BIRTHDAY PARTY from Jeffrey's!!!
---
NFL FOOTBALL SUNDAYS
ARE YOU READY FOR SOME FOOTBALL?
JOIN US STARTING AT 11 AM
$3 BLOODY MARY OR SCREWDRIVER
.75 CHICKEN WINGS
WEEKLY GIVE AWAYS
---
QUICKDRAW AND OTB DAILY!
Quick Draw and OTB Available All Hours we are open 7 Days a Week!
---
TUESDAY NIGHT STEAK DINNER 5PM-8PM $9.99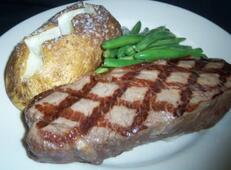 STEAK NIGHT ! A freshly cut, juicy NY Strip, choice of potato (including our HUGE Bakers) and vegetable all for just $9.99 !! Why eat at home??
---
EVERY WEDNESDAY ALL DAY & NIGHT
Bawk, Bawk! It's $6 Chicken Day!!
Get any Chicken Sandwich on our menu or Our Famous Homemade and REAL (not frozen) Chicken Tenders (not braggin' but some say the best in Rochester!!)
All come with our housemade chips or fries for just $6!!
2ND WEDNESDAY OF EVERY MONTH! OPEN MIC NIGHT WITH GENESEE JOHNNY.
---
EVERY THURSDAY 11:30AM-10PM
ANY BURGER WITH FRIES $6
Sub Tots, Onion Rings or Mac Salad $1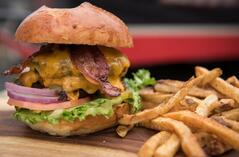 ---
SATURDAY is TACO DAY!!
Like Tacos? What is Your Favorite?
Soft Shell or Hard Shell?
Try them both for just $1.75 each Every Saturday 12-6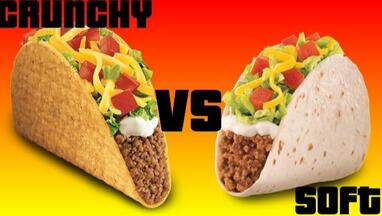 EVERY SATURDAY 7:30PM AND NEVER A COVER
WE LOVE LIVE MUSIC!!

Born out of our love of great friends and good music, Jeffrey's Bar has become the Favorite Neighborhood Restaurant and Bar in the Henrietta Area!

Featuring local talent as well as well-known artists, we offer live music every Saturday Night and there is NEVER a Cover Charge!

Come and relax. Listen to great music, enjoy a couple of drinks with your friends or colleagues. and experience the love of music for yourself.